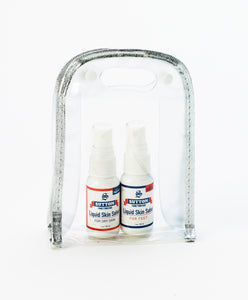 It's easy to try something new right now. This Essential Skin Care Set has our two best sellers: Liquid Skin Salve for Dry Skin and Liquid Skin Salve for Feet.

  Your skin deserves the best loving care.
  Enjoy the sensation of silky gloves slipping on your hands. Enchanting floral aroma enhances the refreshing effects of Liquid Skin Salve.
  Your skin's organic protective layer will be restored because Liquid Skin Salve has the ingredients that your skin makes naturally.
  We know how busy your life is. We created a salve that applies in l0 seconds – in a minute you can touch anything: smartphone keyboard and leave no trace, no greasy fingerprints.
  Give your skin a break from all the hand sanitizers and hand washing.
Our Liquid Skin Salve is completely sterile – you get a fresh spritz every time.
Use it every day - a 1 oz bottle will last a month.
 Liquid Skin Salve for Feet is a soothing formula that provides relief to dry skin using nature's most powerful ingredients, including amino acids, vitamins, and plant-based botanical. As for the scent, it's light, refreshing, and herbal, with notes of eucalyptus and spearmint. It may be the best foot salve or cracked heel balm you've ever tried. Our restorative skin salve is a gentle spray that can be easily applied whenever your feet need a little extra T-L-C. 
Relax and treat your feet with something special. Use our Liquid Skin Salve for Feet when your heels and toes need some love. Morning, night, or anytime, the results will make this part of your routine in no time at all! 
Here the opinion of one of our customers:  "My dry and cracked hands are smooth and soft now. I'm also pleased with the foot salve. I'm prone to cracked heels in the winter but they are soft and they aren't painful like they have been in years past.
I'll definitely be ordering again!" - Maryann G. (verified buyer)