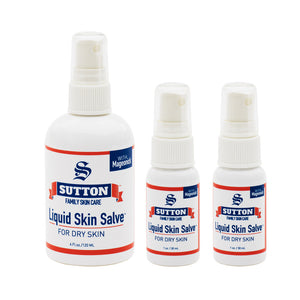 Your skin deserves the best loving care.
  Enjoy the sensation of silky gloves slipping on your hands. Enchanting floral aroma enhances the refreshing effects of Liquid Skin Salve.
  Your skin's organic protective layer will be restored because Liquid Skin Salve has the ingredients that your skin makes naturally.
  We know how busy your life is. We created a salve that applies in l0 seconds – in a minute you can touch anything: smartphone, keyboard and leave no trace, no greasy fingerprints.
  Give your skin a break from all the hand sanitizers and hand washing.
Our Liquid Skin Salve is completely sterile – you get a fresh spritz every time.

  Usage: Shake well before each use. Spray 2-3 times in your hands then rub onto affected areas of skin until it feels smooth.  For intensive care, spray directly onto the affected skin. Reapply as often as needed.  
Size: Product Bundle which includes the 4 oz. bottle and two additional 1 oz. bottles, great for on-the-go travel and to keep a bottle in your car, purse, backpack or at your office desk. 
Ingredients: Vegetable Glycerin*, Distilled Water*, Isopropanol, Essential Amino Acids (Isoleucine*, Leucine*, Lysine*, Methionine*, Phenylalanine*, Threonine*, Valine*), Nonessential Amino Acids (Alanine*, Arginine*, Aspartate*, Glutamine*, Glycine*, Proline*),  Esters of Glycerol*,  Squalene*, Urea*, Alkylglycerols*, Humic Acids*, Allantoin*, Phosphocreatine*), Vitamin B2*, Vitamin B5*, Vitamin B6*,  Vitamin C*, Citric Acid*, Hyaluronic Acid*, Kelp*, Alfalfa*, Parsley*, Rose Hips*, Potassium Sorbate*, Proprietary Blend of Essential Oils and Phthalate-free Fragrances. *Indicates Naturally Derived. 
For external use only. Please keep out of eyes. Cruelty-free-not tested on animals. 100% vegan. Sulfate & Paraben-free.