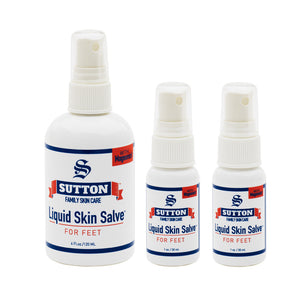 Say goodbye to split skin and cracked heels! Our Liquid Skin Salve for Feet is the best product for cracked heels as it moisturizes and nourishes the skin, offering sweet relief when you need it most. As for the scent, it's light, refreshing, and herbal, with notes of eucalyptus and spearmint. It may be the best foot salve or cracked heel balm you've ever tried! 
Our Liquid Skin Salve for Feet is a soothing formula that provides relief to dry skin using nature's most powerful ingredients, including amino acids, vitamins, and plant-based botanicals. If you're looking for a treatment for rough or dry feet, our restorative skin salve is a gentle spray that can be easily applied whenever your feet need a little extra T-L-C.  
Relax and treat your feet with something special. Use our Liquid Skin Salve for Feet when your heels and toes need some love. Morning, night, or anytime, the results will make this part of your routine in no time at all!  
Usage: Shake well before each use. Spray 3-4 times on each foot. Massage into feet, heels, and toes for 1-2 minutes. Cover feet with cotton socks to prevent slippage. For an intensive treatment, apply directly on affected areas.  Apply as often as needed.  
Aroma: A lightly scented green and herbal aroma.  Blending notes of eucalyptus, ginger, peppermint, and thyme that finishes with hints of amber.  
Size: Product Bundle which includes the 4 oz. bottle and two additional 1 oz. bottles, great for on-the-go travel and to keep a bottle in your car, purse, backpack or at your office desk. 
Ingredients: Vegetable Glycerin*, Distilled Water*, Isopropanol, Essential Amino Acids (Isoleucine*, Leucine*, Lysine*, Methionine*, Phenylalanine*, Threonine*, Valine*), Nonessential Amino Acids (Alanine*, Arginine*, Aspartate*, Glutamine*, Glycine*, Proline*), Esters of Glycerol*, Squalene*, Urea*, Alkyglycerols*, Humic Acids*, Allantoin*, Phosphocreatine*), Vitamin B2*, Vitamin B5*, Vitamin B6*, Vitamin C, Citric Acid*, Hyaluronic Acid*, Kelp*, Alfalfa*, Parsley*, Rose Hips*, Potassium Sorbate*,Proprietary Blend of Essential Oils and Phthalate-free Fragrances. *Indicates Naturally Derived.
For external use only. Please keep out of eyes. Cruelty-free-not tested on animals. 100% vegan. Sulfate & Paraben-free.