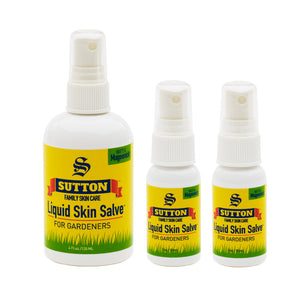 We love to garden! Getting your hands in the dirt. Feeling connected to the earth. Growing our own food for our family. We work hard at it, get our hands dirty and yes, we love gardening! But it doesn't love our skin! The sun, soil, dirt and rocks can do a number on your skin and hands, so we developed a formula just for Gardeners.  
Our Liquid Skin Salve for Gardeners has the gentle yet powerful nutrients of calendula, rose hips, vitamins, minerals, amino acids help to revive damaged skin while providing moisture and nourishment where you need it most. It's lightly scented with fresh green notes of sweet basil and green ivy that both men and women can enjoy.  
Usage: Shake well before each use. Spray 2-3 times in your hands then rub onto affected areas of skin until it feels smooth. For intensive care, spray directly onto affected skin. Reapply as often as needed. 
Aroma: A fresh and clean unisex aroma. Watery, green notes of sweet basil and green ivy mingle with hints of lily, rose, violet, sandalwood and tonka bean.   
Size: Product Bundle which includes the 4 oz. bottle and two additional 1 oz. bottles, great for on-the-go travel and to keep a bottle in your car, purse, backpack or at your office desk.
Ingredients: Vegetable Glycerin*, Distilled Water*, Isopropanol, Essential Amino Acids (Isoleucine*, Leucine*, Lysine*, Methionine*, Phenylalanine*, Threonine*, Valine*), Nonessential Amino Acids (Alanine*, Arginine*, Aspartate*, Glutamine*, Glycine*, Proline*),   Esters of Glycerol*, Squalene*, Urea*, Alkylglycerols*, Humic Acids*,   Allantoin*, Phosphocreatine*), Vitamin A*, Vitamin B1*, Vitamin B2*, Vitamin B3*, Vitamin B5*, Vitamin B6*, Vitamin B12*, Calendula*, Vitamin C*, Vitamin E*, Citric Acid*, Vitamin K*, Hyaluronic Acid*,Kelp*, Alfalfa*, Parsley*, Rose Hips*, Potassium Sorbate*, Proprietary Blend of Essential Oils and phthalate-free Fragrances. *Indicates Naturally Derived.
For external use only. Please keep out of eyes. Cruelty-free-not tested on animals. 100% vegan. Sulfate & Paraben-free.