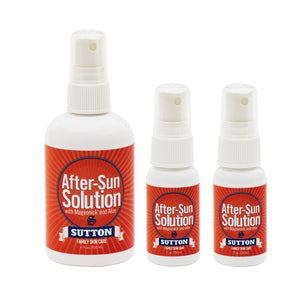 While the sun warms our bodies and feels wonderful on our skin, it can soak up all of the nutrients and skin-loving moisture that we need. Sunscreen does a great job at protecting our largest organ from its harmful UV rays, but what do you do afterward to nourish and replenish our skin cells? Most of the time, we tend to let it go but that is not the best method for keeping our skin healthy. Let's be proactive in our skin-loving treatments!  
We developed our After-Sun Solution to revive your skin after sun exposure. Packed with a powerhouse of skin-loving ingredients in our proprietary Liquid Skin Salve formula, you will find aloe, calendula, B vitamins, amino acids, and kelp, just to name a few. An easy, spray-on application that is lightly scented with essential oils of lavender and peppermint to soothe and hydrate your after-sun skin. 
Usage: Shake well before each use. Spray a fine mist onto affected skin areas as soon as possible after sun exposure. Reapply every 4 to 6 hours as needed. 
Aroma: A soothing yet refreshing blend of lavender and peppermint essential oils. 
Size:  Product Bundle which includes the 4 oz. bottle and two additional 1 oz. bottles, great for on-the-go travel and to keep a bottle in your car, purse, backpack or at your office desk. 
Ingredients: Vegetable Glycerin*, Distilled Water*, Isopropanol, Essential Amino Acids (Isoleucine*, Leucine*, Lysine*, Methionine*, Phenylalanine*, Threonine*, Valine*), Nonessential Amino Acids (Alanine*, Arginine*, Aspartate*, Glutamine*, Glycine*, Proline*),  Esters of Glycerol*,  Squalene*, Urea*, Alkylglycerols*, Humic Acids*, Allantoin*, Phosphocreatine*), Aloe Vera juice*, Calendula*, Vitamin B2*, Vitamin B5*, Vitamin B6*,  Vitamin C*, Citric Acid*, Hyaluronic Acid*, Kelp*, Alfalfa*, Parsley*, Rose Hips*, Potassium Sorbate*, Lavandula Angustifiola (lavender) Essential Oil*, Mentha Piperita (peppermint) Essential Oil*. *Indicates Naturally Derived. 
For external use only. Please keep out of eyes. Cruelty-free-not tested on animals. 100% vegan. Sulfate & Paraben-free. 
*This product is not intended to be a substitute for professional medical advice, diagnosis, or treatment. Always seek the advice of your dermatologist or other qualified physician with any questions you may have regarding your skin.